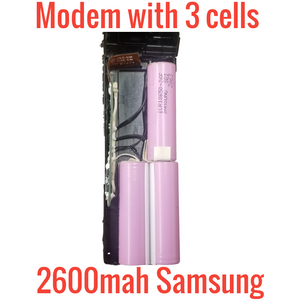 Battery Hookup
3 SAMSUNG 2600MAH 18650 CELLS IN SMPCM8 MODEMS
Regular price
$1.80
$0.00
Unit price
per
You get 3 cells in a pack for just $1.80! 60 CENTS PER CELL!
Modem batteries are only cycled when a home loses power, which is very rare in the US. That is why they test so good compared to salvaging cells from laptops.
We spot tested thousands of these cells and they came out around full capacity. These are a great source of genuine Samsung 2600mah cells. You can pry the seam with a pair of wire cutters to get the cells out. These cells are testing out consistently around full capacity. We have had nothing but good results so you can buy with confidence!
Since these have been in storage uncharged for shipping standards some will be around 2-3v but they will all wake up. Out of the thousands we have tested there were only a few bad cells. 
Cell specifications are below.
Brand:
Samsung
Model:
ICR18650-26H
Capacity:
2600mAh Rated
Voltage:
3.63V Nominal
Charging:
4.20V Maximum
1300mA Standard
2600mA Maximum
Discharging:
2.75V Cutoff
520mA Standard
5200mA Maximum
Description:
Pink Cell Wrapper
White Insulator Ring
18650 Form Factor
---
Share this Product