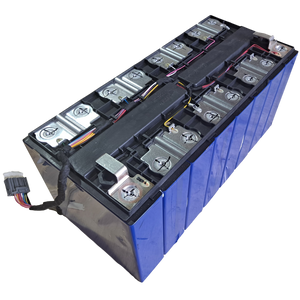 Battery Hookup
24v 120ah 3.07kWh Lifepo4 8s Module
Regular price
$450.00
$0.00
Unit price
per
These modules are already assembled into 8s 24v modules. They were originally built for EV use but the welds are considered "cold" therefore you should limit discharge to 120 amps. A cold weld is a weld that was not done perfect and has a cloudy look. These are still on very solid but just not good enough for EV use where the welds would expect to see over 300 amps. This is perfect for RV and powerwall use. The cells are already balanced and the balance leads can be soldered so adding a BMS doesn't get any easier. You will want to add an 8s lifepo4 BMS. The main positive and negative have tabs that stick out. You can drill a hole and use a nut and bolt to make your ring terminal connection.
Module is 51 lbs.
We cover the $37 hazmat fee and the UN-4G packaging to legally ship these. We are fully certified for this kind of shipment.
Dimensions 15" x 7" x 7"
These came out of steel cases so there may be some dings and scratches but nothing major. All are balanced and ready to go. 
---
Share this Product